As can be seen in the graph above, after dropping from about 3.75% at the start of the year to 3.5% in February, 30-year mortgage rates dropped to around 3.25% at the beginning of March. At that point, the demand for refinances put such a strain on mortgage brokers, they raised their rates to rein in the flow, and as of last Thursday, the rate was back up to 3.65%.
Since that time, rates have fallen again to 3.5%, not as low as the beginning of March, but still very low. It should be noted that because different lending institutions offer differ rates, there is no single mortgage rate at any given time.
Mortgage rates are indirectly affected by a number of factors that make them difficult to predict or explain. One key factor involves the secondary mortgage market. As a lender makes loans, its cash funds get low, so the lender sells the loan, typically to Fannie Mae or Freddie Mac, which in turn combines many loans into what is known as a mortgage-backed security.
These securities are made available to investors, including governments, on the secondary mortgage market. These mortgage-backed securities are considered to be generally safe, similar to US Treasuries, but because they are riskier, investors demand a higher rate than US Treasuries. Thus, a lower Treasury rate tends to lower mortgage rates, though other factors also come into play, such as the uncertainties with the spread of COVID-19.
Still, rates today are at historic lows as seen by the below graph tracking mortgage rates from 1971 to present.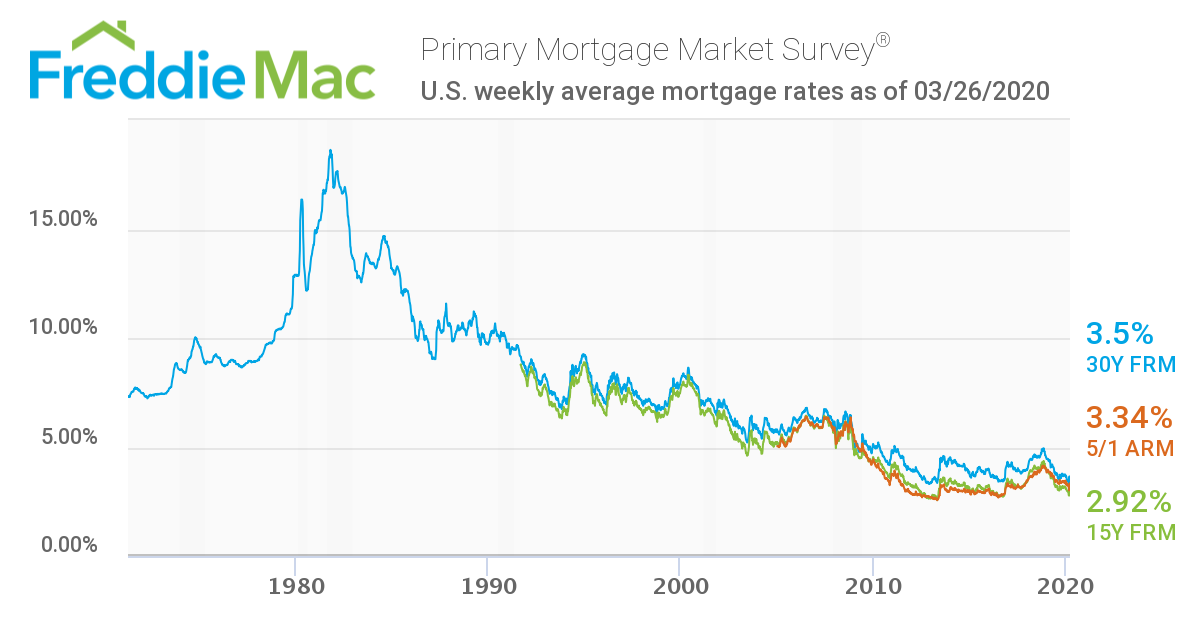 If you are thinking of buying or refinancing, now certainly looks like a great time to get an excellent rate on your loan. If you are looking for a reputable mortgage broker, give us a call!
Sources:
"Secondary Mortgage Market" by Findwell Real Estate
"How Treasury Notes Affect Mortgage Rates" by The Balance
Graphs and rates courtesy of Freddie Mac