Amid the coronavirus shutdown, real estate prices in Seattle are skyrocketing. As the graph above shows, the winter bounce repeated the bounce of last year—albeit not as low—and median prices look set to rise above 2019, though a reversal can come, of course, at any moment.
Because the economy has stalled in many sectors, prices might have been expected to plummet with would-be buyers holding off. It seems, however, that the on-going shortage of inventory and historically low interest rates are combining with would-be sellers also holding off (see graph below) to squeeze prices upward.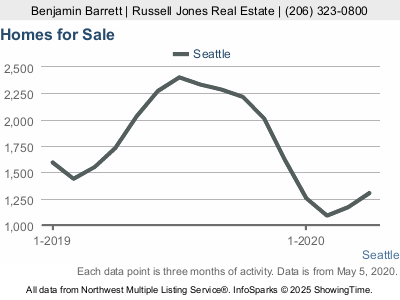 According to MarketWatch, this trend in Seattle is similar to the housing market of the nation overall, though Fannie Mae predicts the median price to rise only nominally ($272K to $275) this year.
According to an opinion piece by Danielle DiMartino Booth in Bloomberg, however, economic stress will cause sellers to reverse course, releasing a deluge of homes that will flood the market, lowering prices. In addition, the opinion writer says that the Silver Tsunami (retiring baby boomers) will also inundate the market as retirees sell their valuable real estate assets for much-needed cash.
Nobody can predict whether the gloomy scenario painted by Booth will come to pass in America and whether Seattle's vibrant tech and corporate local economy will be adequate to withstand it, but however the market moves, we hope you stay safe and healthy during the pandemic. And wash those hands!