According to Freddie Mac, mortgage rates for a 30-year fixed loan are about 3.13% today. For a 15-year loan, the rate is about 2.6%. (Rates offered by lenders will vary somewhat from these numbers.)
The graph above shows how rates have generally trended downward over the past year. When mortgage rates dropped precipitously at the beginning of March, mortgage brokers and lenders were slammed with refinance and new home loan requests while scrambling to implement coronavirus safety policies. The situation has greatly calmed down now and the process is built around safety measures, such as remote signing.
Will mortgage rates continue to fall? As explained in an earlier RJRE blog post, mortgage rates are affected indirectly by a number of factors and are difficult to predict. According to poll results published on the Bankrate website, most experts (77%) believe mortgage rates will plateau with only 8% saying they will rise and 15% saying they will fall. An article on NerdWallet agrees with the general sentiment that mortgage rates will remain unchanged for months to come.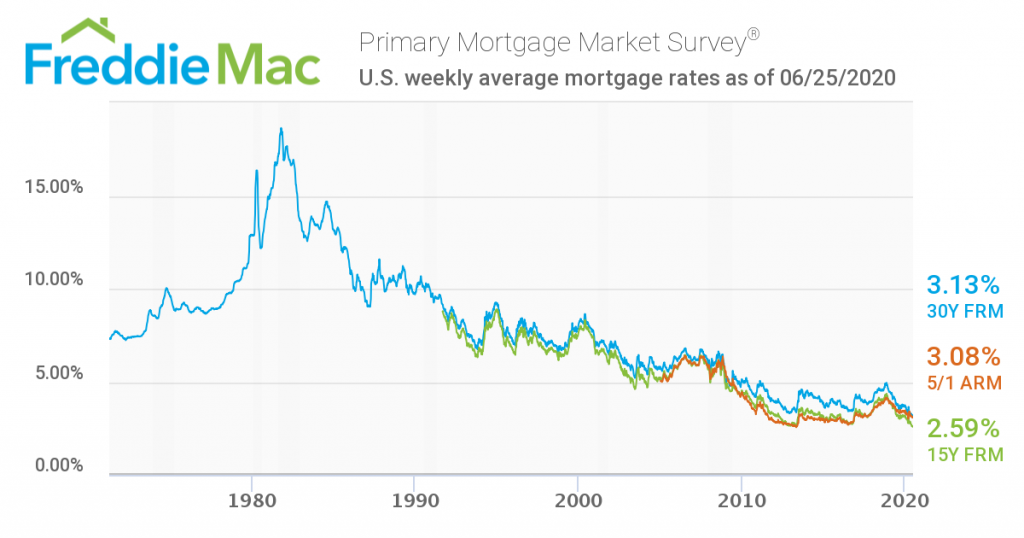 As seen in the chart above, rates have generally fallen since the early 1980s, but clearly there must be a bottom at some point. Timing any market is difficult and with COVID-19 still hobbling the economy, the future is uncertain. Experts generally agree that the most important factor in timing a refinance is when it makes sense in your situation.
Before refinancing, consider how much you will save over the life of your loan (until you sell or pay it off) and take into account the closing costs required by the bank (including a professional home assessment). Note also that if you are in forbearance on your current mortgage because of COVID-19, you will have to resume payments for at least three months before you are eligible for a refinance. If you are in a forbearance plan, it may make sense to talk to a mortgage broker after you've made the second payment to get things moving.
If you need a mortgage broker, feel free to reach out. We work with expert brokers who can help you decide whether to refinance and assist you in the process.
Further reading:
Mortgage rates keep falling to record lows — so is now a good time to refinance?, MarketWatch, Jacob Passy, June 25, 2020
Mortgage rates today, June 25, 2020, plus lock recommendations, The Mortgage Reports, Peter Warden, June 25, 2020
Graphs and rates courtesy of Freddie Mac.
This post is for informational purposes and is not financial advice. Always consult a professional before making any financial decision.