It has been less than a month since the last RJRE mortgage rate review, but with the news that they fell below 3%, this topic deserves another visit.
According to Freddie Mac, the average rate for a 30-year home loan hit 2.98% on July 16, a record low since Freddie Mac began keeping track in 1971 when the rate was 7.33%. For a 15-year loan, the rate was 2.48%.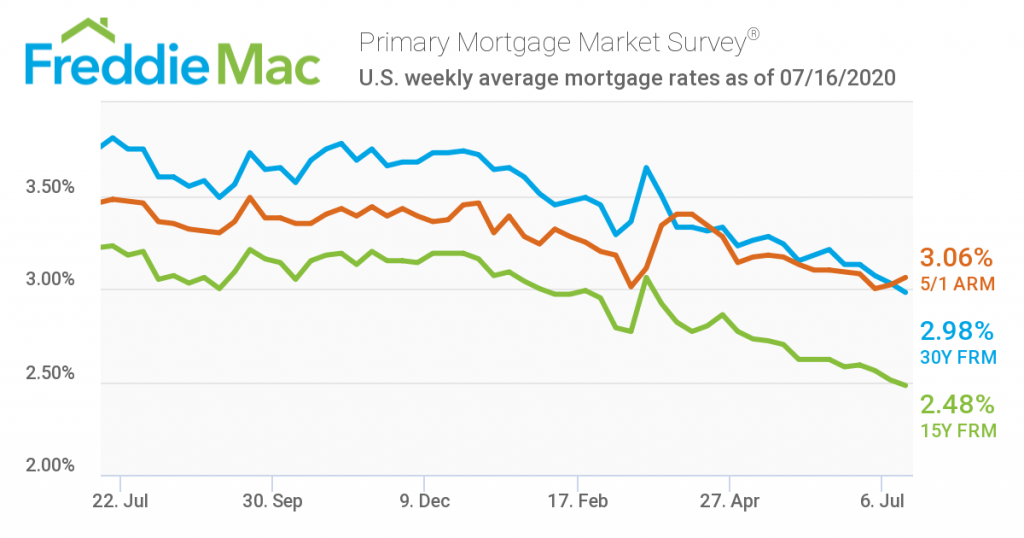 The low mortgage rates today are due to factors such as low interest rates set by the Federal Reserve and investment in Treasury bonds by investors anxious about the future.
Before refinancing your home mortgage, take into account closing costs, how long you plan to stay in your home, and how much time you have left on your mortgage. Also, if you are in forbearance (such as due to the pandemic), you will have to bring the loan up to date and make regular payments for at least three months before you will be eligible for a loan.
What comes down must go back up again, but whether loan rates will plateau or continue to fall before rising again is anybody's guess. If you have a home loan, this is an excellent time to consider refinancing, whether for a shorter-term loan to pay off more quickly or a longer-term one to enjoy the interest write-off and better cash flow.
Sources and further reading:
Graphs courtesy of Freddie Mac.