Skagit County Housing Prices Continue Upward
Overview
Skagit County residential prices increased 5.6% in October compared to a year ago, while condominiums jumped 14.7%. Inventory as well tightened, with residential inventory falling 4.3% and condos falling a stunning 43%. This report for October 2023 provides key market indicators of property values and trends for residences and condominiums in Skagit County. Also included in this report is discussion on mortgage rates, which have a considerable impact on real estate sales.
Residential Real Estate Sales
The average sale price for residences in King County reached $605K in October 2023, rising markedly by +5.6% over the $573K in October 2022. This positive change underscores how, despite the continued rise in interest rates (discussed below), demand for residences remains strong in the region.

Condo Market Sales
Condominiums surged in year-over-year sale prices in October 2023. The recorded average of $368K represents an impressive increase of +14.7% from the October 2022 figure of $321K. At the same time, inventory plummeted (see below), indicating that condos are very much in demand in Skagit County.

Inventory
The months of inventory statistic refers to how long it would take to sell all the homes currently on the market at the current rate of sales. Both residences and condominiums had a reduced inventory time. This indicates fewer homes available for buyers. Residences inched down from 2.3 to 2.2 months (-4.3%) while condominiums sank by 43% from 2.8 to 1.6 months of inventory. These drops in inventory are consistent with rising prices as lower supply creates higher demand, putting upward pressure on prices.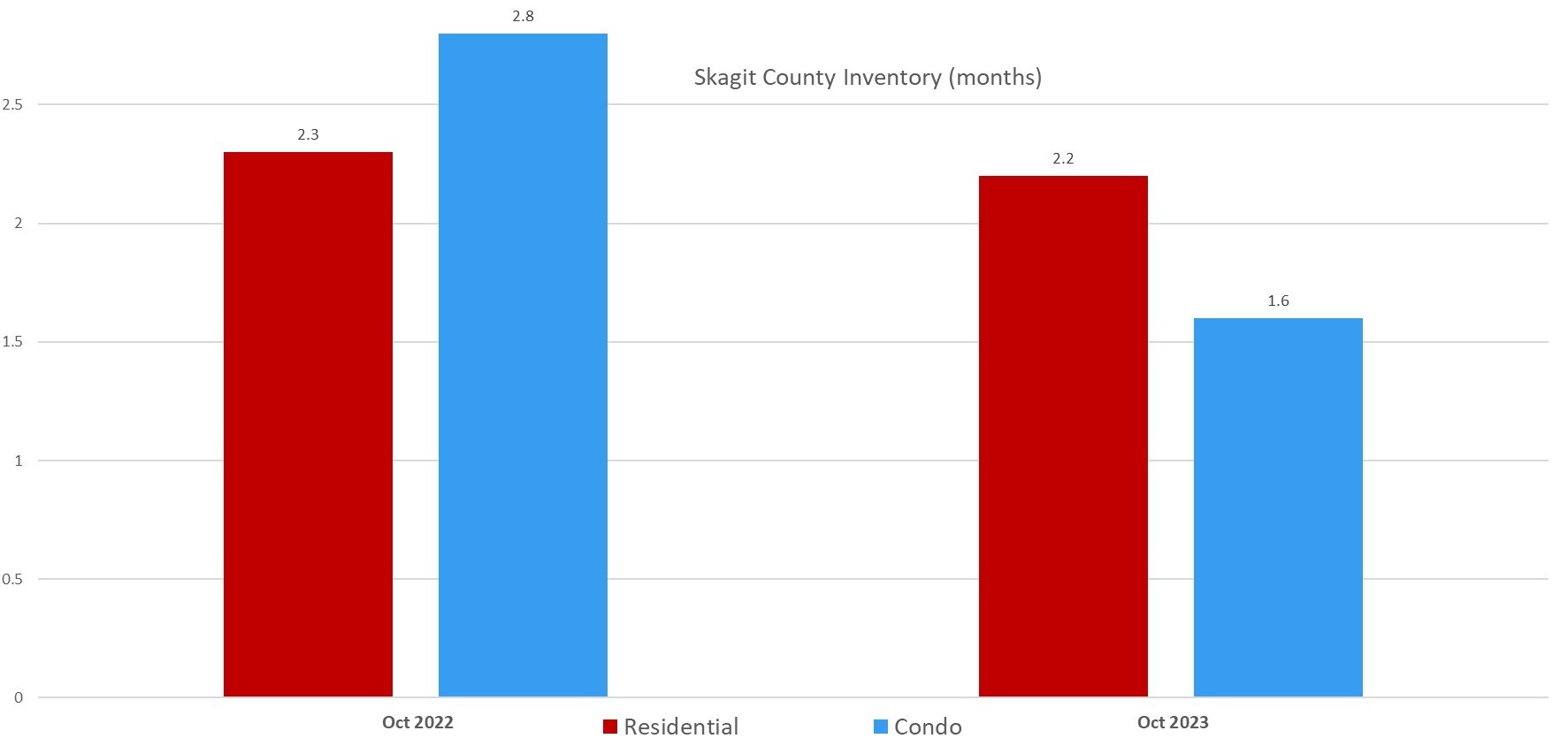 Mortgage Rates
As shown in the Freddie Mac graph below, interest rates have taken a dip, though that dip actually occurred in November. The high point in the graph represents the end of October at 7.79% for a 30-year mortgage and 7.03% for a 15-year mortgage. We may very well have seen the top of mortgage rates, though only time will tell.
Freddie Mac projects slower economic growth and lower inflation in 2024, but not so much as to significantly reduce mortgage rates ("Economic, Housing and Mortgage Market Outlook – October 2023").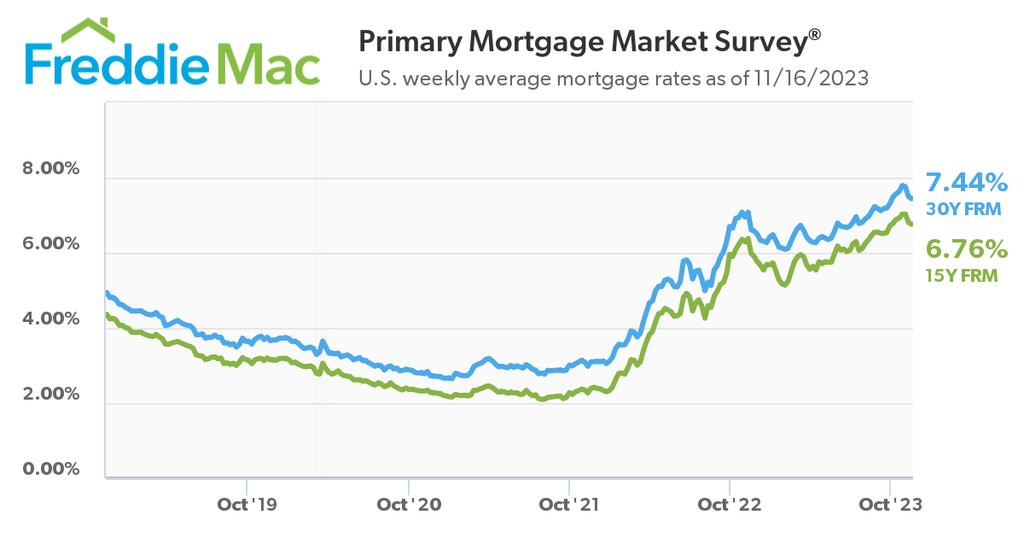 Should mortgage rates fall, it is expected that more buyers will come onto the market. That is because lower mortgage rates correspond to more buying power for those getting a home mortgage. This should in turn cause upward price pressure. Once mortgage rates drop to a level that homeowners with historically low mortgages feel they can move, the inventory level should increase. Until that time, however, the seller's market is expected to continue.
---
Conclusion
As the figures above show, housing prices in Skagit County are still rising. The natural beauty and laid back atmosphere of Skagit County make it a desirable place to live. In addition, the rural nature of the region with its quick access to Seattle, Bellingham and British Columbia make Skagit County a convenient place to call home. While the housing market is generally expected to loosen up in 2024 with slightly lower interest rates, no dramatic change in supply and demand appears to be on the horizon.
Keeping an eye on the trends in real estate and mortgage rates is key for making informed decisions in the real estate market.
This market report is brought to you by Russell Jones Real Estate.