Perhaps the most quietly beloved building in Seattle, the Loveless Building is located on Broadway just north of the Y-intersection. Completed in 1933, the building has been home to many shops, restaurants and artists over the years, with notable tenants including photographers Ella McBride and Myra Albert Wiggins. It was designed by Arthur Loveless, a prominent Seattle architect who designed many other buildings in Seattle and lived in one of the apartments until his death in 1971.
Past an iron gate, the open-air entrance passage leads to a peaceful garden courtyard and access to all of the apartments. The stucco walls, lawn and fountain all add to the pleasant courtyard ambience. The building received a citation for excellence in 1961 from the American Institute of Architects.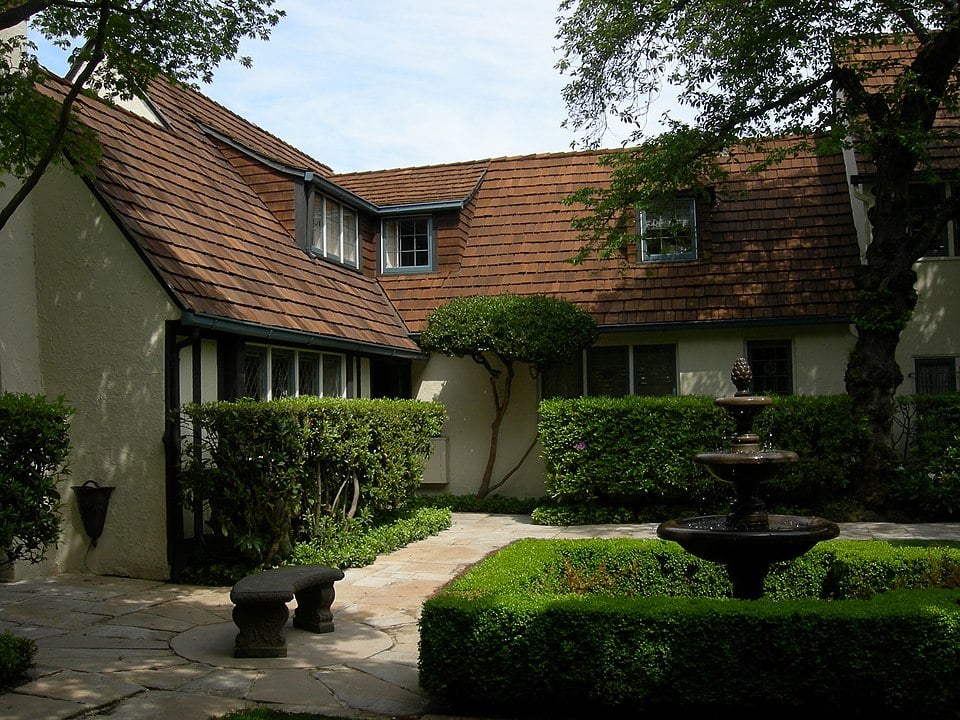 Architecture
Originally known as the Studio Building, the structure is built in the Tudor Revival style and looks as though it has been plucked out of a quaint English village. The first floor is designed with a stone exterior and many windows, and the second floor features dormers, leaded windows, and steep gabled roofs to avoid rain from collecting. Arthur Loveless commented on this:
"Grey days require ample windows surface; much rain would suggest roofs of fair pitch to shed the waters; our cool summers do not require much cover for out-door living…" (Smith).
Neighbors
Across Roy to the south are the DeLuxe Bar & Grill and the Mexican embassy (formerly the Harvard Exit Theatre), where the Woman's Century Club meets to this day. To the west is the Rainier Chapter House, a property of the Daughters of the American Revolution open to weddings and other special events. Across Harvard to the east is the 700 Broadway Apartments, which sits at center of the Broadway Y-intersection. To the north is the Theosophical Society in Seattle and its Quest Bookshop.
Historical Significance
As part of the Harvard-Belmont District, the Loveless Building was placed on the National Register of Historic Places in May 1982.
To this day, the Loveless Building houses a number of shops and apartments and at least one studio.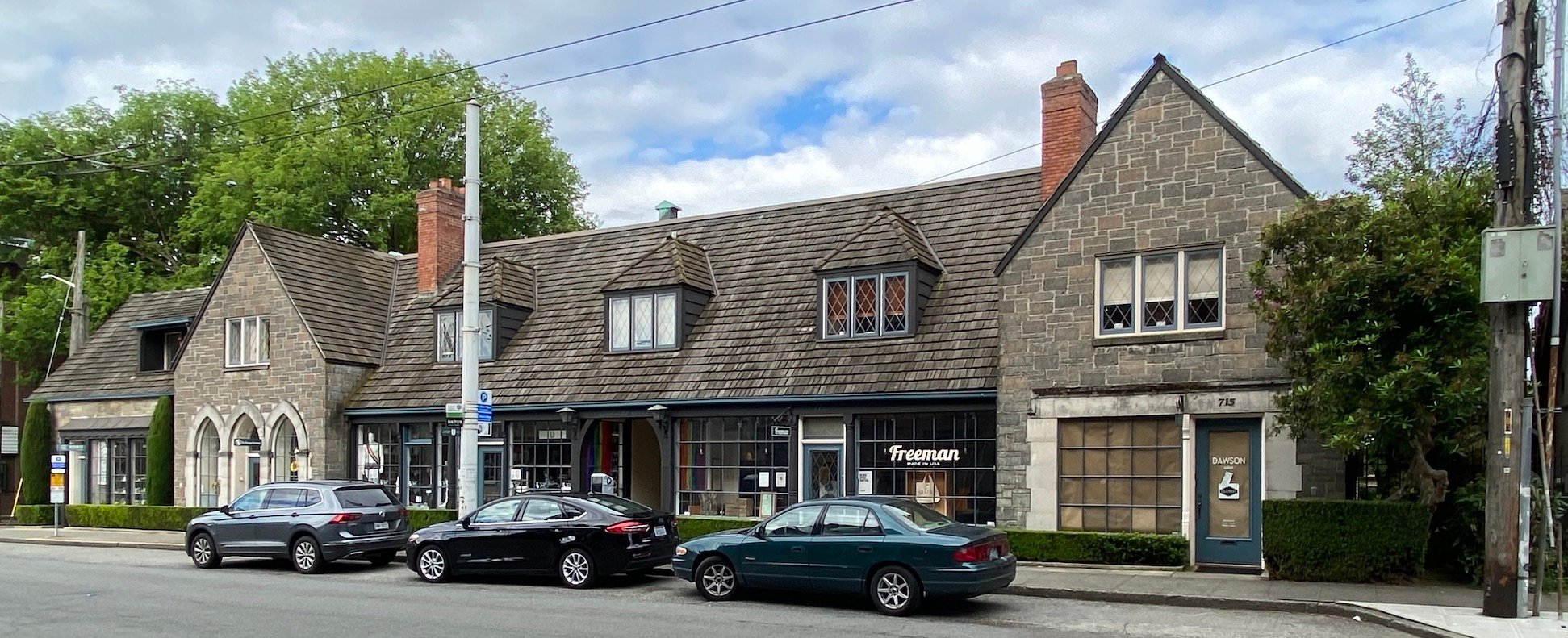 Further citations and reading about the Loveless Building:
Photo credits: "Loveless Bldg 01" (side shot of shops) and "Loveless Bldg 09" (courtyard) by Joe Mabel, unaltered from original. License: CC 3.0.
Shops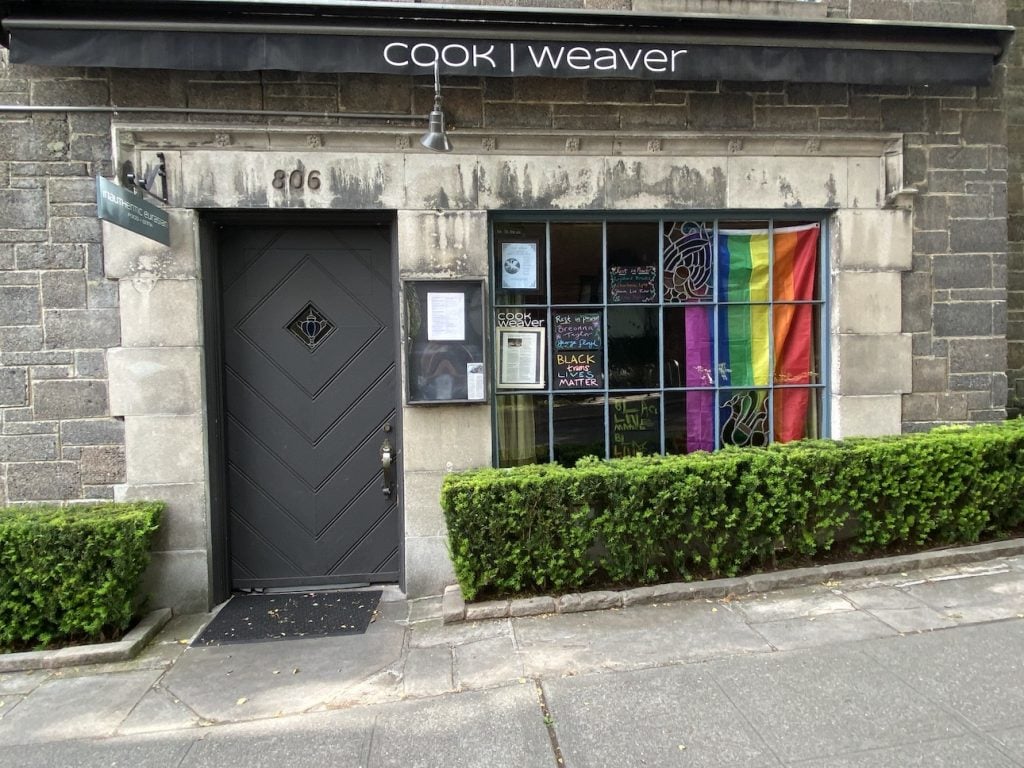 Billing itself as serving "inauthentic Eurasian food," Cook Weaver has an eclectic atmosphere befitting of the Loveless Building heritage. Owner-chef Zac Reynolds crafts internationally inspired cuisine that is complemented by drinks by owner-mixologist Nile Klein. Cook Weaver opened in late 2016.
A storied space, 806 East Roy has been occupied by—from the most recent back in time—Restaurant Marron, the Olivar, Coco La Ti Da, Fork, Bacchus and Byzantium. The original occupant was the Russian Samovar, which opened in 1931 with commissioned murals on the interior walls. Painted by Vladimir Shkurkin, the murals depict scenes from "The Tale of Tsar Saltan," a fairy tale written by Alexander Pushkin. The paintings still grace the walls, and an English translation of the fairy tale can be found on the Cook Weaver website.
Address: 806 East Roy Street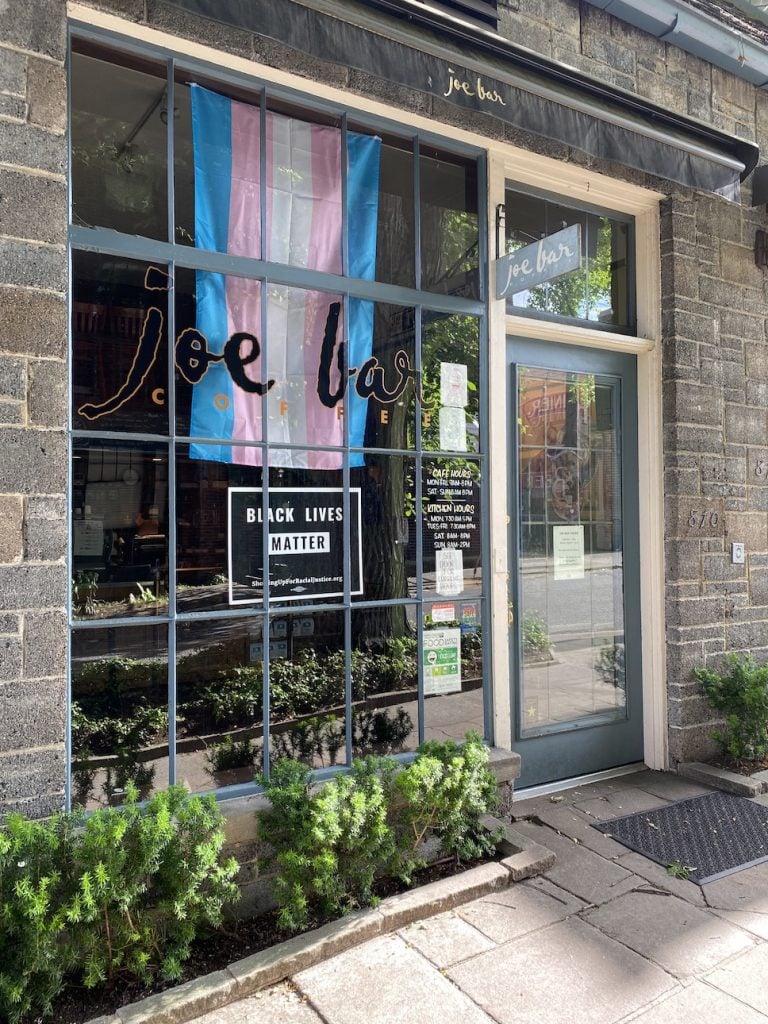 Since 1997, Joe Bar has been serving up espresso drinks, crepes, beer and wine—along with art—to Harvard Exit Theatre-goers, Woman's Century Club members and community residents. On the second Thursday of the month, they host an art night to celebrate artists and their works.
Owner Wylie Bush also owns Barjot, which is located a few blocks down Roy on Bellevue.
Address: 810 East Roy Street
Dogs: Welcome to hang out on the patio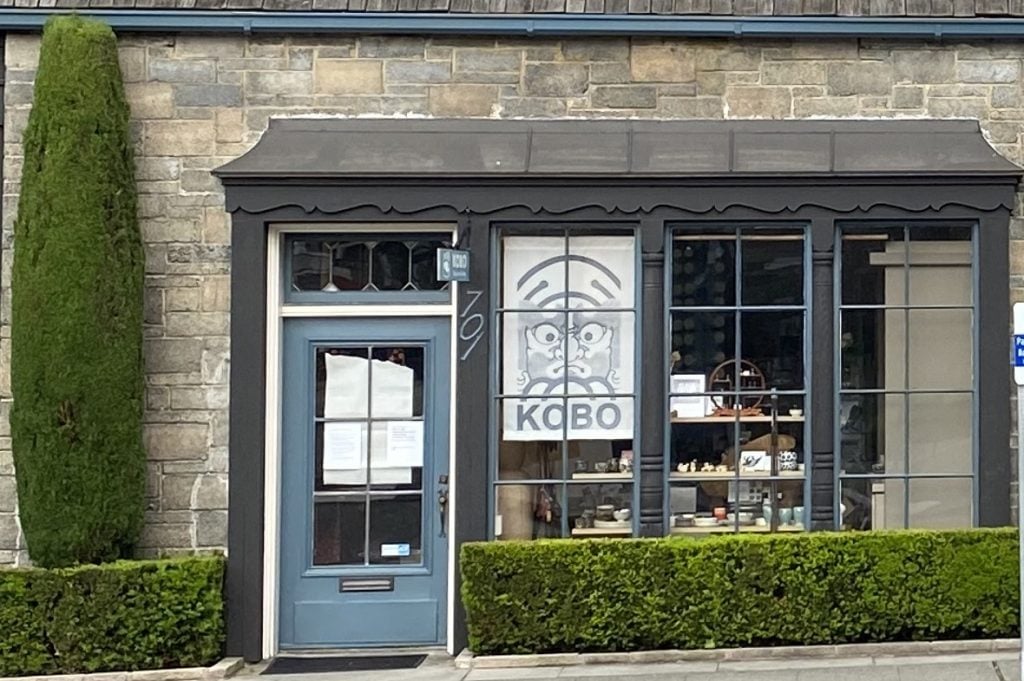 Kobo is an artisan gallery, displaying fine crafts made by Japanese and Northwest artists in both traditional and contemporary styles.
Opening in 1995, Kobo puts on about six art shows each year, and the selection of goods includes books, greeting cards and jewelry. They have a second shop in the International District at the Higo Variety Store on Jackson.
Address: 814 East Roy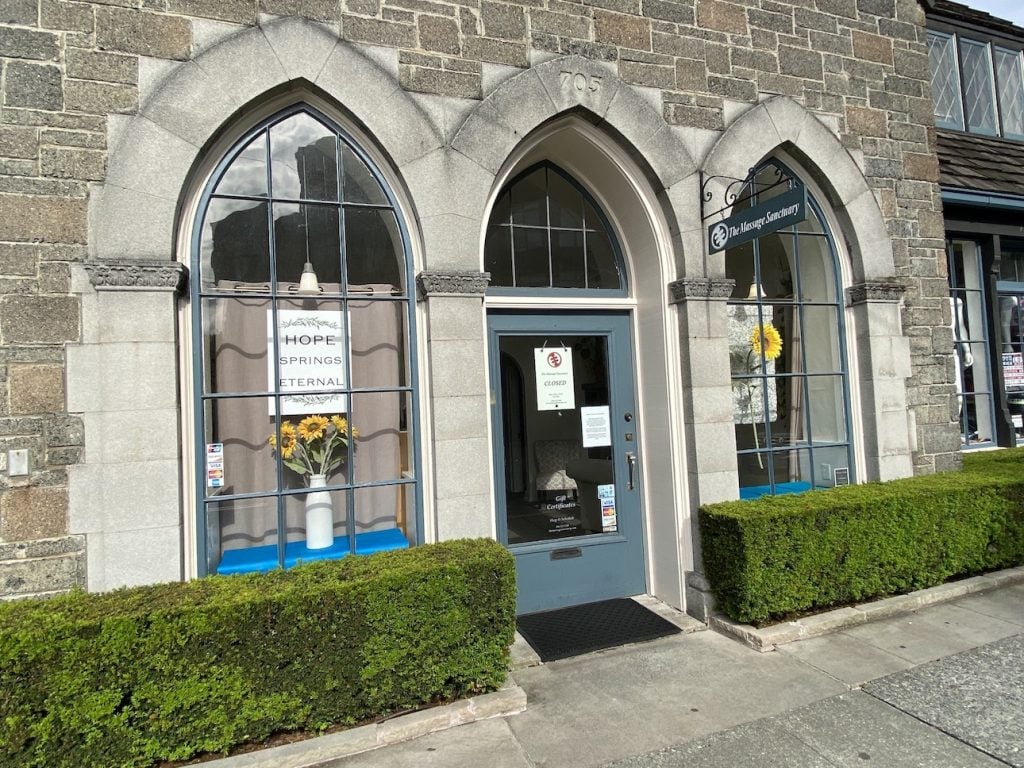 For more than a decade, the Massage Sanctuary has been providing professional massages. Among the techniques their expert staff practice are cupping, deep tissue, hot stone, myofascial release, Swedish, and trigger point.
Address: 705 Broadway East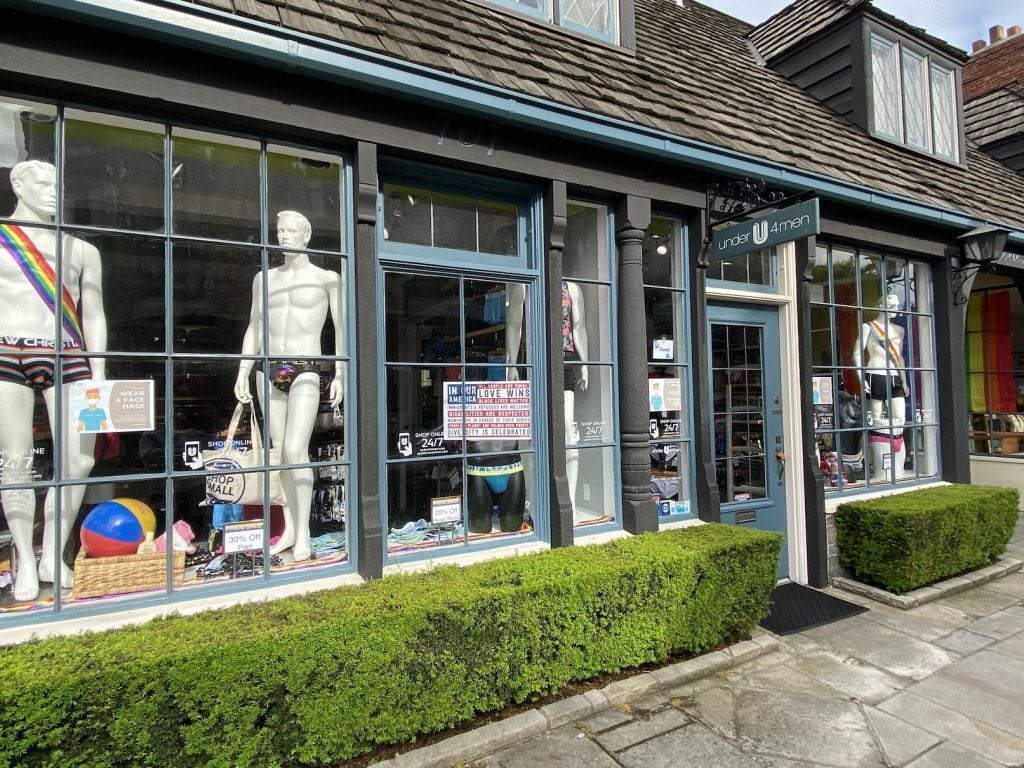 Quality underwear for men that is fashionable. Bamboo rayon, beech wood, and eucalyptus are some of the excellent materials that go into the offerings at underU4men. Desiring to bring to the US quality men's underwear as he found in Europe, founder Steve Lien is an Oregonian with an eye for excellence.
After opening the flagship store in Portland—the largest underwear shop for men in the US—in 2006, Lien opened the Loveless Building boutique in 2008. Browse the Speedo, Hugo Boss and other offerings without distractions and with staff members that are knowledgeable about men's underwear.
Address: 709 Broadway East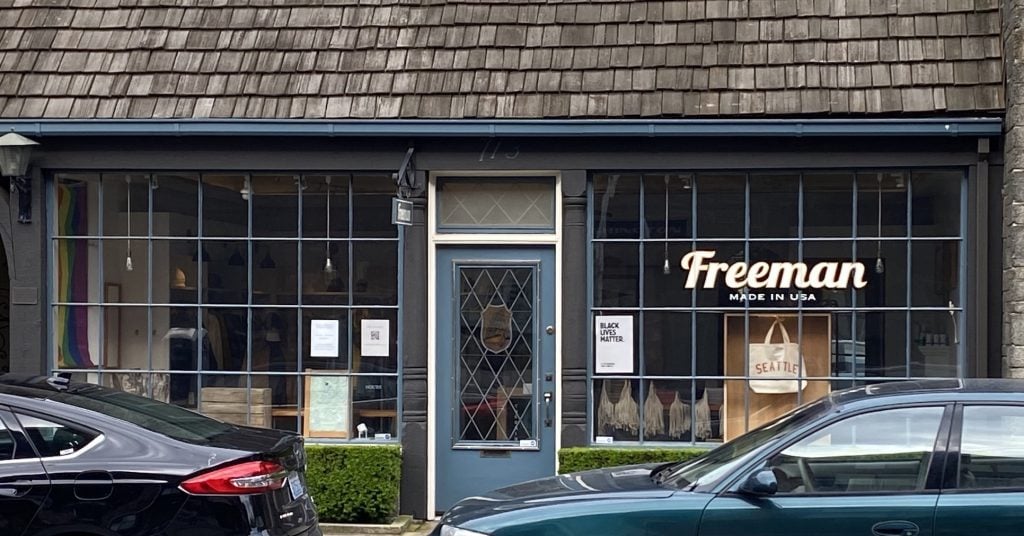 A solid rain jacket for Seattle. Quality denim pants. Socks, hats and bags.
Focused on producing quality goods with excellent materials, the Freemans began operation in 2011 and opened up their Loveless Building location in 2014. Their website includes a guide to Freeman raincoat care and a wonderful webpage on the Loveless Building.
Among the great goods to check out are cotton masks for COVID-19.
In addition to their locally produced products, they offer quality brand clothing and other goods that are made domestically.
Address: 713 Broadway East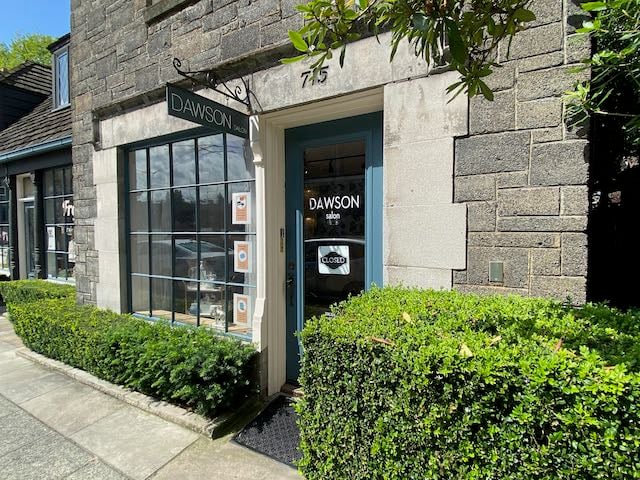 Training at Gene Jaurez, Leigh Dawson bought Blink in 2012 to bring her passion for learning and beauty to the world.
She and her talented staff offer a range of beauty treatments, from haircuts and styling to eyelashes and eyebrows, and manicures and pedicures. Check out their Brazilian blowouts, wax treatment, and polish changes for the hands and feet.
Address: 715 Broadway East
References and further reading:
Cook Weaver
Joe Bar
Kobo Shop and Gallery
The Massage Sanctuary
underU4men
Freeman